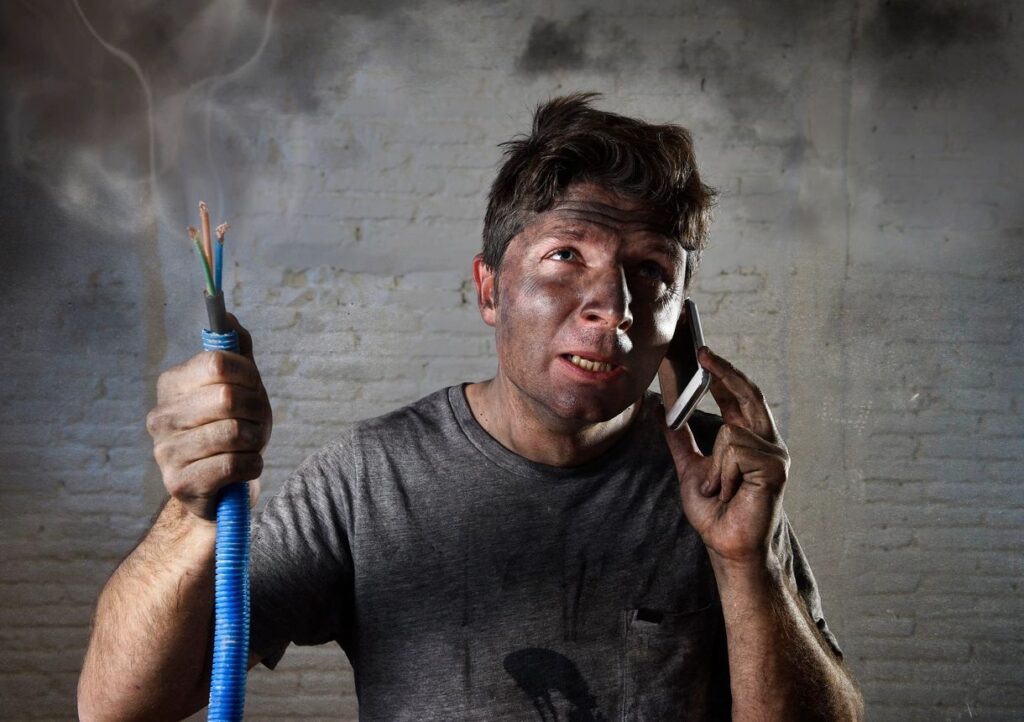 Homeowners sometimes want the cheaper or faster route, and will hire a handyman or the first contractor they come upon. But as you'll read, there are many reasons why you should take your time and do a little research before hiring someone that will affect how the electricity in your home performs. Sometimes all it takes is asking a few questions. So here are the main risks of hiring an unlicensed contractor:
---
Insufficient Training
When choosing someone to perform electrical work, it's critical that the person(s) performing the work know what they're doing. The hiring of any person lacking the correct training to safely perform the work can pose serious consequences. Many times, if you ask an electrician where they were trained, you won't want to hear the answer. Because we have so many state, county, and city by-laws and regulations now, "my dad taught me" is no longer an acceptable response. An unlicensed contractor is often so because they lack formal training.
---
Lack of Code Knowledge
If you're hiring an electrical professional, there is a safe presumption that all the work would be performed in accordance with the National Electric Code (NEC). However, when you're hiring a non-professional like a handyman, it would be safe to assume that they lack the code knowledge required to perform installations correctly. You should always hire a licensed professional to perform electrical work of any kind.
---
Substandard Workmanship
Good electricians that have worked in the electrical field for many years have honed their craft and learned the difference between performing amateur work and true craftsmanship. Any person claiming to be capable of performing electrical work without the appropriate credentials will almost certainly perform substandard workmanship. This could potentially cause you to pay double for the same work, which negates all the work you did to find the "best deal".
---
Unsafe Practices
Part of the training that professional electricians receive is practicing safe working habits and knowing OSHA standards. The Occupational Safety and Health Administration established many of the protocols for performing both standard and non-standard installations. Someone could get hurt, or worse. In other words, saving a few bucks just isn't worth the risk of hiring an unlicensed contractor.
---
No General Liability or Worker's Compensation Insurance
A professional electrical company will have all of the necessary insurances to protect their clients and employees in the event an accident does occur. This is a legal requirement for contractors and this information should be made available to potential clients if you ask. Usually a lack of insurance denotes a non-professional.
---
Danger to your Property or Lives
In the event a person is hiring an unlicensed contractor, they are assuming a very high level of risk. If the unlicensed person happens to get injured or cause damage to the client's property or the property of a third party, the client can and will be held liable for any and all damages.
---
Fines
The Occupational Safety and Health Administration (OSHA) could issue a fine upon any person knowingly or unknowingly hiring an unlicensed contractor up to $5,000. Fines and jail time are also a possibility for the contractor.
---
How do I know whom to choose?
What questions might a person ask that would enable them to distinguish the difference between a professional electrician and a non professional electrician? Here, we're going to give you some tips to find the right electrical contractor for whatever needs you have.
Where did you acquire your electrical training? You definitely don't want to choose someone that "learned from their friend". There are many trades where this is acceptable. But when your home and everything inside – including loved ones – are at stake, you don't want to leave it to chance that they may not have been taught the National Electric Code.
How many years have you worked in the electrical field? Experience is the best teacher. The longer an educated electrician has worked in the field, the more likely they'll be to be able to deal with whatever situation arises.
Have you worked solely in the electrical field or did you work with electrical within another profession, and if so how much? The reason this question is important is that sometimes, Handymen try to pass themselves off as electricians (or other professions). Handymen may know how to change a fan or chandelier, but they may not know how a new water heater affects the electrical load. Worse yet, they may cut corners because it's "how they were taught". Sometimes, you have people in other professions, like A/C or pools, that want to branch out. Because they've worked with electricity, they believe they can be an electrician, which is far from the case.
Have you performed the type of work I'm interested in having done? This kind of goes along with question number 2. The more times you've installed an outlet, the quicker and more efficiently you can do it. With experience comes speed while being safe.
Are you appropriately licensed to perform electrical work in Florida? This one is simple. If they're not licensed, they shouldn't be doing it. Period. But just because someone was licensed in New York or any other state, doesn't mean they know the codes here. Yes, different states have different codes, mostly because the climate and topography are different from state to state. This affects the local by-laws.
What type of license do you hold? This might seem silly, but there are different types of electrical licenses.
Does that license permit you to legally perform electrical work which would include being the qualifier when pulling permits? Usually, a contracting professional who is also a qualifier has had extensive education in their field past what you would consider a "normal" education. Also, when your electrical contractor is also the Qualifier, you know you've hired the right company.
Are you properly insured for electrical contracting? It's possible for an electrician to be insured, but not in the ways that benefit you should something actually happen.
Do you sub-contract your work? While this is popular for General Contractors to do, it means that they are choosing the person that has your lives and property in their hands, not you. Unless you trust your GC with your life, you should always try to choose your professional electrician yourself.
---
In Summary:
Property owners are liable for any injuries sustained by unlicensed contractors while working on their property or traveling for purposes related to their property. Essentially, the level of risk exposure is easily higher than the benefit of cost savings while receiving substandard work. Unfortunately for some this lesson is learned too late and they become part of a negative statistic. Protect yourself and hire a licensed contractor.
Disclaimer:
We take great care to provide the most accurate information on this post. However, all content is for informational purposes ONLY and should be considered as general knowledge or even entertainment. It should not be relied on, as every case and/or reader is different.
ALWAYS call and check with a qualified electrician before attempting or acting upon anything you have read on this site. Changes are always happening within the NEC, Standards and Regulations, and State, County, and City by-laws.