---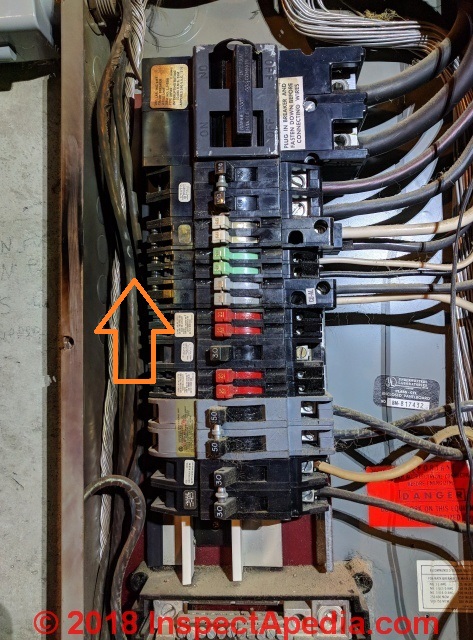 ZINSCO is born
In the 1920's, a man by the name of Emile Zinsmeyer was working for Frank Adam Electric, heading up their West Coast sales. He used his earnings to buy stock in the company in 1929, and then founded a company named "The Zinsmeyer Company". They manufactured electrical circuit breakers and distribution panels. In the early 1940's, Zinsmeyer's youngest son, Martin, took over the family business and renamed the company "ZINSCO Electric". However, by 1973 the company was sold to GTE-Sylvania who continued to manufacture that original design under the name ZINSCO. For many years, Sylvania made these items until the product was discontinued due to the many hazards associated with these circuit breakers. The company – and designs – have been sold and bought a few times since, despite hazards known for both the ZINSCO panel and its' circuit breakers.
Bad panels, bad breakers
ZINSCO circuit breakers proved to have design flaws in which the circuit breakers would become loose upon connection to the bus bars. This causes arcing and overheating. Long term overheating of these circuit breakers would cause the circuit breakers to fuse to the bus bars and become very difficult to remove. Another hazard was the fusing of two circuit breakers, which would cause issues with the tripping mechanism. As a result, this could lead to lights flickering, loss of power, a burning smell, and in some cases, fires. Nearly 32% of ZINSCO breakers tested failed to trip as they should. It's estimated that only 2-5% of cases are actually reported, so that proper research can be done.
Dr. Jess Aronstein, an engineer and researcher, performed limited testing. It showed that the central ZINSCO panel and circuit breaker failure problems stem from burn-ups at those clip-to-bus connections. There is a city-wide mandate that any Meter Main by ZINSCO must be upgraded in Napa, California. It began in 2012. It seems that the problems stem from aluminum parts within the panel. See Aluminum Wiring for more information about why aluminum isn't a good conductor for electrical parts. Moisture accelerates the problem, which is no good for South Florida.
---
Their circuit breakers could fail to trip. They could blast out of their casing in an "electrical arc explosion". The panel could overheat. Despite all this, there has never been a recall for these products. If your home, business, or soon-to-be home has a ZINSCO panel and you have questions, please do not hesitate to give us a call today and one of our professional electricians can discuss your concerns with you.
For more information about the hazards of ZINSCO/GTE-Sylvania Panels, click on the link here.
Disclaimer:
We take great care to provide the most accurate information on this page. However, all content is for informational purposes ONLY and should be considered as general knowledge or even as entertainment. It should not be relied on, as every case and/or reader is different.
ALWAYS call and check with a qualified electrician before attempting or acting upon anything you have read on this site. Changes are always happening within the NEC, Standards and Regulations, and State, County, and City by-laws.