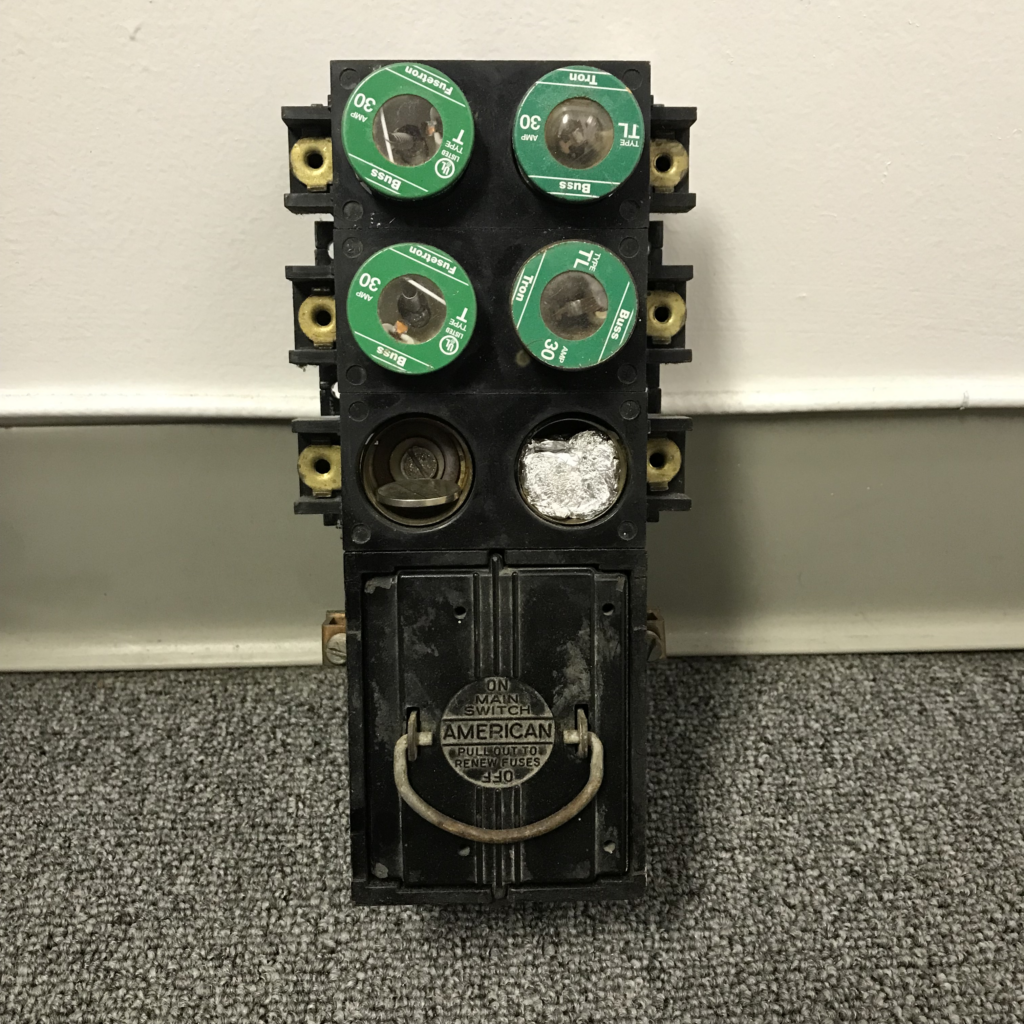 History of fuse boxes
Thomas Edison patented his electrical distribution system in the 1880's and by the 1890's had patented the fuses. Shortly after, a fuse box was created and added for protection to house the distribution system. It was the first electrical box introduced in the electrical industry which was used to address the electrical safety concerns in homes. Fuse box panels were installed in homes through the 1950's.
Fuse boxes held 12 or fewer fuses and didn't allow room for expansion. Basically, the more appliances and devices people had, the more often their fuses would blow. To deal with the constant blowing of fuses people would install too large a fuse, their reasoning being that if they installed a larger fuse, it wouldn't burn out as often. Believe it or not, because they are copper, people even stuck pennies in their fuse boxes to keep them running! And they were correct – it WOULDN'T burn out. However, they could be shocked, or their devices and appliances could be ruined. They might even start a fire. People could die. Essentially, the bottom line was that the average person couldn't be trusted, so the code had to change, and so did the panels.
How does a fuse work?
Fuses are relatively simple and safe, when used within their capacity. Inside the cylindrical container is a tiny strip of metal. This piece of metal is made to carry a certain amount of electricity. If the electricity at any point surges, the metal overheats and breaks, which stops the flow of electricity. This is why you have a blown fuse, and no more electricity to whatever it was supplying. This is essentially the same as how car or boat fuses work. Fuses are easy to replace, and you can conveniently and literally see the blown fuse. Then, you would simply unscrew it and replace it with the same amperage as the one you removed. Circuit breakers, although you can't see inside them, usually only require a reset. And of course, breaker panels – as long as the wiring is rated for it – can carry a much larger electrical load.

What do I do with my fuse box?
Home owners are advised to take serious precaution if changing out a blown fuse due to the electrical shock hazard that exists. Your best bet is to contact a qualified electrician to have your fuse box panel removed and a modern circuit breaker panel to be installed in place.
Be aware that most insurance companies will not insure your home or the home you are purchasing, without this fuse box being replaced with a breaker distribution panel and the other related issues being brought up to code. Or they may insure you, but at a much higher cost. Again, consumers are to blame for this, as the fuse boxes are actually safer when used correctly. Even the best circuit breaker has a chance – however miniscule – to fail to interrupt the circuit. But there is very little chance of that happening if a licensed professional electrician properly installs a good breaker panel. Most electricians will no longer service homes with fuse box panels simply because of liability. Also, keep in mind that depending on the home and who owned it previously, it may require additional wiring as well.
For more information on fuse box panels, click on the link or call us today and speak with one of our professionals for help with your fuse box concerns.
Disclaimer:
We take great care to provide the most accurate information on this page. However, all content is for informational purposes ONLY and should be considered as General Knowledge or even as entertainment. It should not be relied on, as every case and/or reader is different.
ALWAYS call and check with a qualified electrician before attempting or acting upon anything you read on this site. Changes are always happening within the NEC, standards and regulations, and State, County, and City by-laws.