You've probably seen them on other home's roofs and wondering what they were. They look like an old Jiffy-Pop pan. Even though you could probably pop some popcorn on your roof in the summer, we don't suggest it. But it's not a popcorn maker, it's an attic exhaust fan!
Attic exhaust fan installation can help reduce your energy consumption, which is not only great for the environment, but your wallet as well. There are lots of ways that they may aid you, but we've listed some of the biggest impacts they can have for those of us living in the tri-county area.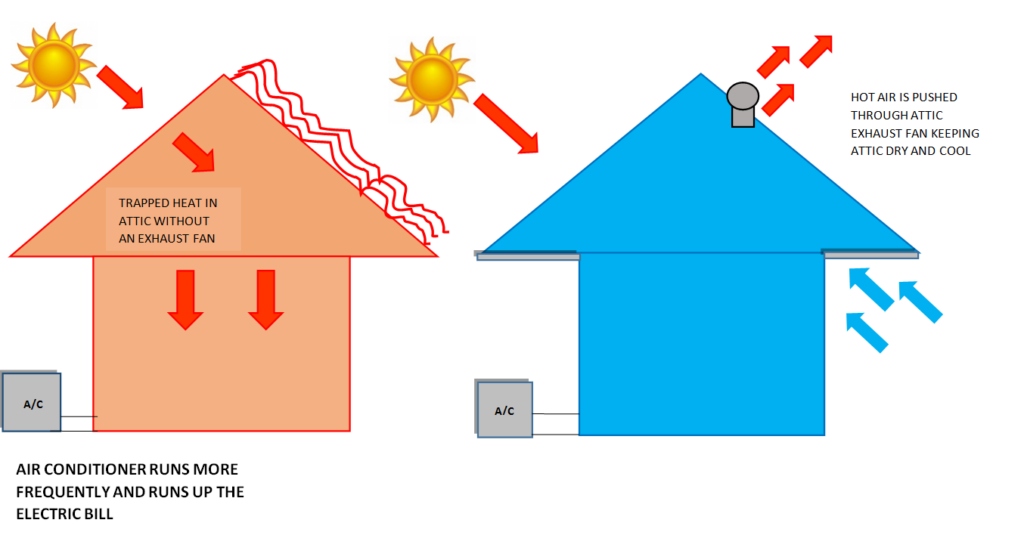 Moisture
Moisture is something that as South Floridians, we have no choice but to live with. But we can reduce it. Installing attic exhaust fans helps in many ways to keep your attic dry, which benefits your home and bank account.
Wood Rot is one of many problems we have in the tri-county area. Wood rot happens when moisture is regularly present within the wooden parts of your home. It is most present in attics because there is no moving air to dry out that area. The heat also helps the process along, as wood rot technically is the process of certain fungi breaking down the moist wood, as it's mistaken for a dead tree (understandably, as that's what lumber is!). When you install an attic exhaust fan, the air becomes drier and cooler. When the wood is dry, fungi doesn't grow easily, which keeps your attic free from wood rot.
Mildew and mold are a big problem in South Florida. Almost everyone in the tri-county area has some form of mold or mildew somewhere in their home. This causes allergies, headaches, and can cause bigger problems for anyone immuno-compromised. Mold and mildew are directly related to wood rot. A solution (at least in your attic) is again the installation of an exhaust fan. When the air is drier and cooler, mildews and molds will be less likely to take hold.
Another problem that relates to moisture in attics is structural damage to metals such as steel. Nails can become rusted, as well as any beams that are exposed to that moisture. This can compromise the integrity of the building. While we can't say anything for the rest of the building, we can at least protect the attic with an exhaust fan.
Roofing is a touchy subject in South Florida. From hurricanes to huge trees, it seems like everything is out to get the roofs of our homes. That said, there is something you can do to help prevent your business or home's roofing from deterioration. While your roofing is subject to elevated temperatures and moisture, installing attic exhaust fans will help keep the inside parts of your roofing drier and cooler.
Roof deterioration really depends on the type of the roof, durability of the roofing system and quality of installation. Six of the most popular roof types in South Florida are clay tiles, asphalt shingles, concrete tiles, metal or steel roofs, slate roofs, and wood shakes.

tampa4u.com Realty
Lastly, there are those pesky critters, termites and ants. This is a wide subject, so we're just going to touch upon Dampwood termites (indigenous to Florida) and Carpenter Ants. While not all termites and ants destroy our homes, these few use already-rotting wood to their advantage. The drier and cooler your attic is, the less of a chance there is that these pests will invade and compromise your building.
Heat
If you live in South Florida, you know all about the heat. Nowadays, there isn't much of a break from it. And it's getting worse with every year that goes by. While you might have the idea that adding appliances that take more energy might make your electricity bill higher, the opposite is true in this case.
As you can see in the illustration above, when heat is trapped in your attic, it heats up your whole house or business. This causes your air conditioning to run more, and we all know that 50% or more of your electricity bill comes from cooling our homes. The less your A/C runs, the more you save. With an attic exhaust fan installed, your home will stay cooler, giving your A/C a reprieve. This saves you energy, as well as helping your A/C unit last longer.
Read more about attic exhaust fans and how they save you money here:
Disclaimer:
Great care is taken to provide accurate information on this page. However, all content is for informational purposes ONLY and should be considered as General Knowledge or even as entertainment. It should not be relied on, as every case and/or reader is different.
Always call and check with a qualified electrician before attempting or acting upon anything you read on this site. Changes are always happening within the NEC, standards and regulations, and State, County, and City by-laws.