Receptacles, outlets, switches and dimmers are an essential part of any home or office. These devices come in a variety of colors and styles to choose from. While outlets are the same as receptacles – "outlet" is the layman's term, receptacle is the correct term, and the one that you'll hear Electricians use – switches can be dimmers and vice versa. However, receptacles, outlets, switches and dimmers are one of the most common reasons we are called out to someone's home or business.
Receptacles/outlets
Our qualified professional electricians can help you solve the issue of old receptacles posing a hazard due to worn out prongs. Upgrades are suggested if your home or office has builder's grade outlets, two-prong outlets, or old wiring. Our electricians often are of assistance in upgrading these devices to modern devices. Two-prong outlets are outdated, as most plugs now have 3 prongs. It's the ground that's missing, and that's pretty important. It's usually a pretty quick and painless replacement.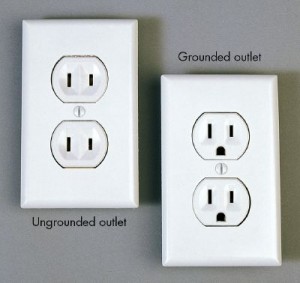 As you can see from the picture above, they are the same shape, size, and even color! They also come in ivory, almond, black, and some come in even more choices to suit whatever color your previous outlet was. So if matching is the main reason you haven't updated your receptacles, no need to worry. There are outlets that have built-in surge protection, and ones that have USB ports! And yes, those older, two-prong outlets are a code violation. Any home inspector would tell you that they now must have the grounded, 3-prong type.
Switches
Remember when a switch was a little toggle that you flipped up or down? Not anymore. You can have push button switches, toggles, or even Bluetooth-controlled switches you can use with your phone or with voice-assisted programs such as Alexa or Google. However, if you're feeling overwhelmed with the choices, your electrician can help you. They can tell you which switches are best for your particular project. Likewise, if you're replacing old fixtures and don't know what you can or can't replace it with, a professional electrician can tell you. If you're not sure, always consult an electrician, as improper installation can cause hazards as well as malfunctioning devices. If you'd like a little more information on lighting timers or motion sensors, see our page on the subject!
---
Dimmers
Our electricians can also help in determining the appropriate dimmer for existing or new lighting by using what is compatible and specifically designed for use with whatever lighting you have, or plan on having. We've included a variety of types below, but there are literally hundreds of styles, colors, and types. Some lighting is NOT compatible with dimmers. Likewise, some wiring was not originally intended to have so many uses. It may be able to be upgraded, but again, that is a question for a licensed electrician.
---
We highly recommend contacting an electrician to help you find what type of receptacle, outlet, switch, or dimmer is best for your project. For more information, contact us today for a free consultation. One of our qualified electricians will be glad to assist and recommend the best options available for you.
---
Disclaimer:
We take great care to provide the most accurate information on this page. However, all content is for informational purposes ONLY and should be considered as General Knowledge or even as entertainment. It should not be relied on, as every case and/or reader is different.
Always call and check with a qualified electrician before attempting or acting upon anything you have read on this site. Changes are always happening within the NEC, standards and regulations, and State, County, and City by-laws.