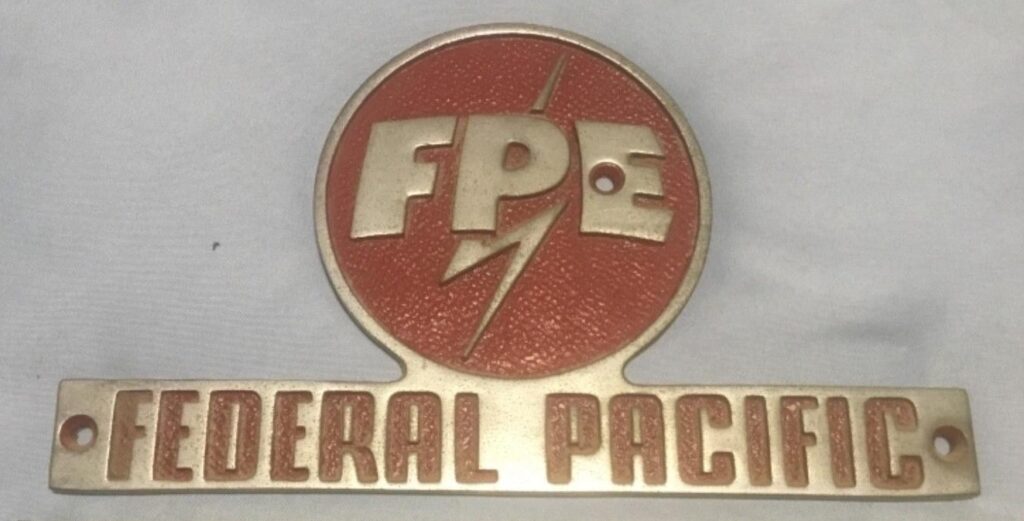 History of Federal Pacific Electric
The Federal Pacific Electric Company designed, patented and sold circuit breakers, beginning with its first patent in 1949. Federal Pacific Stab-Lok Circuit Breakers and Electrical Panels were manufactured by Federal Electric. Later, they changed their name to Federal Pacific Electric, and remained that way from the mid-1950's to the 1980's.
Federal Pacific panels were installed in many communities throughout the country prior to its safety issues becoming known. In 1979, FPE was bought by Reliance Electric Company, who was then bought by Exxon. When Exxon took over and saw what had been happening, they sued. They claimed that the safety tests had been faked to gain approval from Underwriters Laboratories. They won, and UL withdrew their seal of approval. Federal Pacific Electric Company eventually went bankrupt.
Hazards of Stab-Lok
Some of the main hazards these panels were known to have were lack of gutter space and wire bending space as per NEC requirements. Problematic spring mounted bus bars were part of the design. Lastly, they manufactured breakers which would stay powered "on" even when in the "off" position. Stab-Lok Circuit Breakers – when tested – failed to trip as much as 80% of the time. As a result, this caused them to fuse internally and/or to the bus bars, unlike other circuit breakers' manufacturers. The hazards are worst for double-pole breakers. The CPSC study and independent researchers have documented these failures. Additional independent testing and research are ongoing.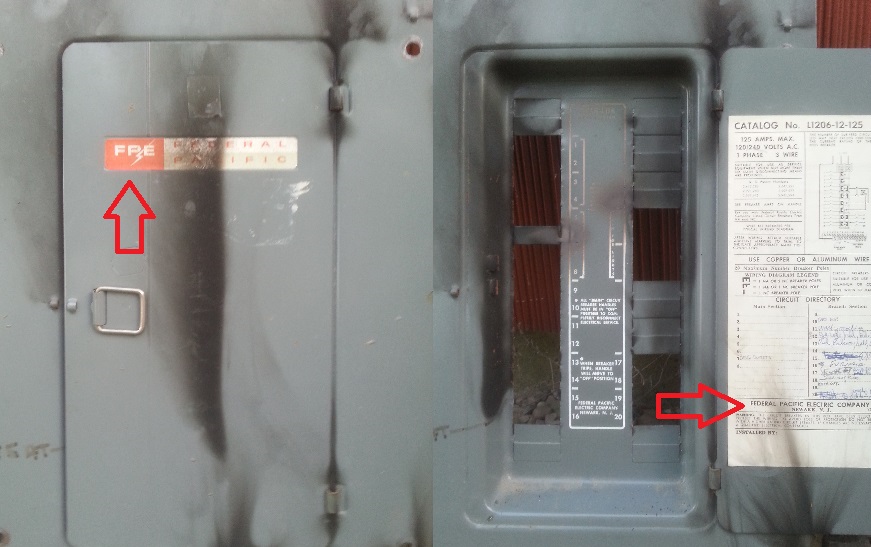 There have been an incredible amount of incidences, from small shorts that burned out quickly (see photos above) to large fires that completely destroyed homes. These all stemmed from the many mechanical issues that breakers and panels created by Federal Pacific possess.
It is important to note that Federal Pacific panels have a failure rate of 60% or more, and their breakers can have a failure rate of up to 80%. It has been estimated that the normal industrial failure rate is less than .01%.
---
Legal Problems for Federal Pacific
If the hazards associated with these panels weren't enough, FPE was also involved in a class action lawsuit in 2002. It only took place in New Jersey, and in connection with their fraudulent labeling. It was the same labeling that Exxon sued over – that they met the UL standard test requirements when in fact they didn't. The court found that the FPE company "…knowingly and purposefully distributed circuit breakers which were not tested to meet UL standards". The court ruled FPE had violated the New York Consumer Fraud Act. Despite all of this, there has never been a recall for any of their products. However, there has been a recall on the Canadian equivalent, which was sold under their sister companies' name, Federal Pioneer.
---
Now What?
With that in mind, an owner's failure to observe a problem "up to now" is absolutely no assurance that the panel is safe. It may simply be that an overcurrent has not previously occurred. Likewise, the circuit breakers may not have had an issue until recently. But there is hope. Changing your panel may not be as complicated as you think. Your first step is to have a professional electrician inspect your panel and its' components.
If your home or soon to be home has Federal Pacific Stab-Lok Circuit Breakers and/or Electric Panel, and you have questions regarding how to address the issue, please do not hesitate to give us a call today. One of our knowledgeable representatives can discuss your concerns with you and/or schedule an appointment for an on-site visit for replacement. Have peace of mind knowing your home's electrical system is safe.
For more information on Federal Pacific Stab-Lok Circuit Breakers and Electrical Panels and the hazards they pose, click on the links. Also, you can call us today and speak with one of our experienced representatives for help with your circuit breaker or panel concerns.
Disclaimer:
We take great care to provide the most accurate information on this page. However, all content is for informational purposes ONLY and should be considered as General Knowledge or even as entertainment. It should not be relied on, as every case and/or reader is different.
ALWAYS call and check with a qualified electrician before attempting or acting upon anything you read on this site. Changes are always happening within the NEC, standards and regulations, and State, County, and City by-laws.