Light timers and motion sensors can help save you money if installed correctly. Read more to see if you might benefit from having them in your home or business.
Lighting Timers
Lighting timers are an excellent way of saving money on your energy bill. The use of these timers has made it more convenient and comfortable to have a worry free agenda. Consumers can have the lights and devices of their home or office programmed for daylight savings. For example, those in the Jewish community that observe the Sabbath and holidays would benefit from installing a lighting timer in their home. Also, a timer can be used for security by having certain lights come on when you're not at home.
Outdoor Motion Sensors
Outdoor motion sensors are another cost-effective installation. They can be programmed to power the light on when movement is detected in dark areas around the perimeter of the home or office. One of the benefits of an outdoor motion sensor is added security. The lights will turn off after a preset time when no further movement is detected, providing a deterrent. The motion sensors for outdoor lighting can be installed as a wall switch which controls the lighting or as part of the light fixture itself. These are usually in the form of floodlights. Moreover, it's becoming increasingly popular for homeowners and business owners to have flood lights combined with a camera, both to deter criminals and to record evidence.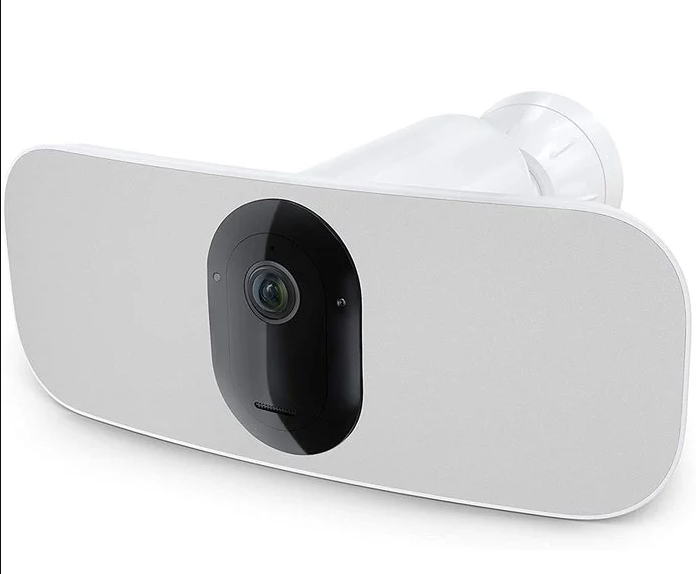 Technically, doorbell cameras are considered motion detectors. They just happen to also record, and have 2-way speech. Ring© is, of course, the most popular brand because of its ease of use. But because they require a subscription, many people are turning to other brands. Either way, our electricians can help you find the right one for your home, and they can install them, even if you don't already have a doorbell (although this requires extra time and materials).
---
Indoor Motion Sensors
Indoor motion sensors (also called occupancy sensors) can be installed in any room where the lights remain on when the room is left vacant. They're very common in offices and other commercial buildings. The most common type of indoor motion sensor is an in-wall switch which is used in bathrooms, laundry rooms, closets, or hallways. Being able to control the amount of time the lights are powered on can help reduce the energy bill to your home or office. But there are actually tons of applications that you may not have thought of.
For instance, if you have elderly folks or young kids in your home, and a good amount of stairs… You already know that you either have to have a few lights on all night, or some "night lights". There are small motion lights that can be installed on your stairs (see below) that only light up when it's dark and it senses movement. This could help keep someone from getting hurt, while also saving you money. The garage is another area that could benefit from a motion sensor. So is the bathroom (see below).
Interior cameras are also very popular, especially for parents wanting to keep an eye on their kids, or people wanting to look after their pets. Many people simply want to know something is recording, in case of a crime. There are a lot of different options to go through. If you feel overwhelmed, our technicians can help you choose the camera system that would most benefit you.
Sprinkler and pool timers
Types of sprinkler timers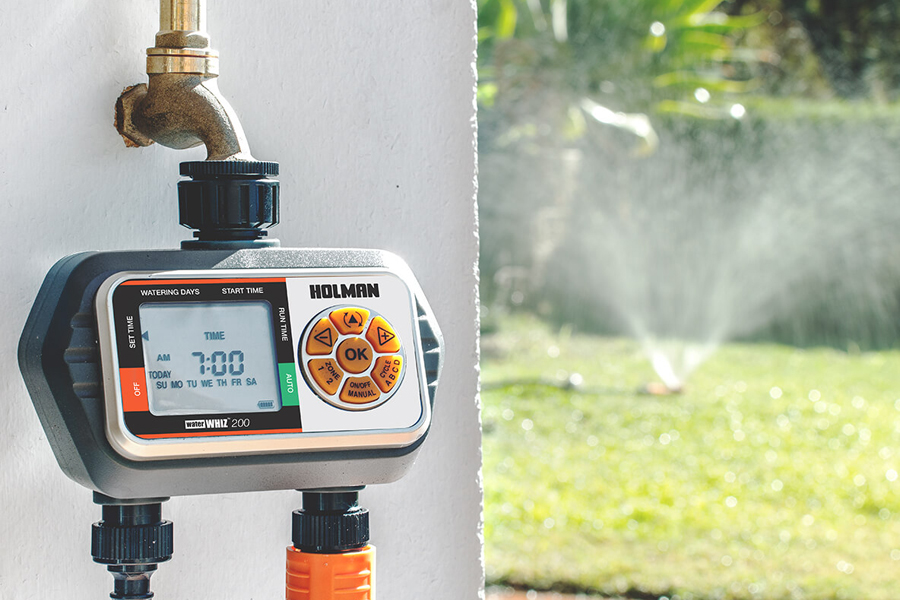 Sprinkler timers are meant to help you save on your water bill. A sprinkler timer usually connects to an outdoor spigot (unless it's a complicated irrigation system) which is always left open. It restricts the flow of water until the time that has been programmed to release water. As it goes, there are two main types. Depending on how you feel about technology, there is a manual rotary timer, or a completely digital timer.
The manual rotary type is essentially the same device for water heaters and pools – basically anything for water management – and so they are often kept in stock. The digital type sometimes needs a specific brand or type, depending on how much landscaping is being watered and the source of water.
Pool timers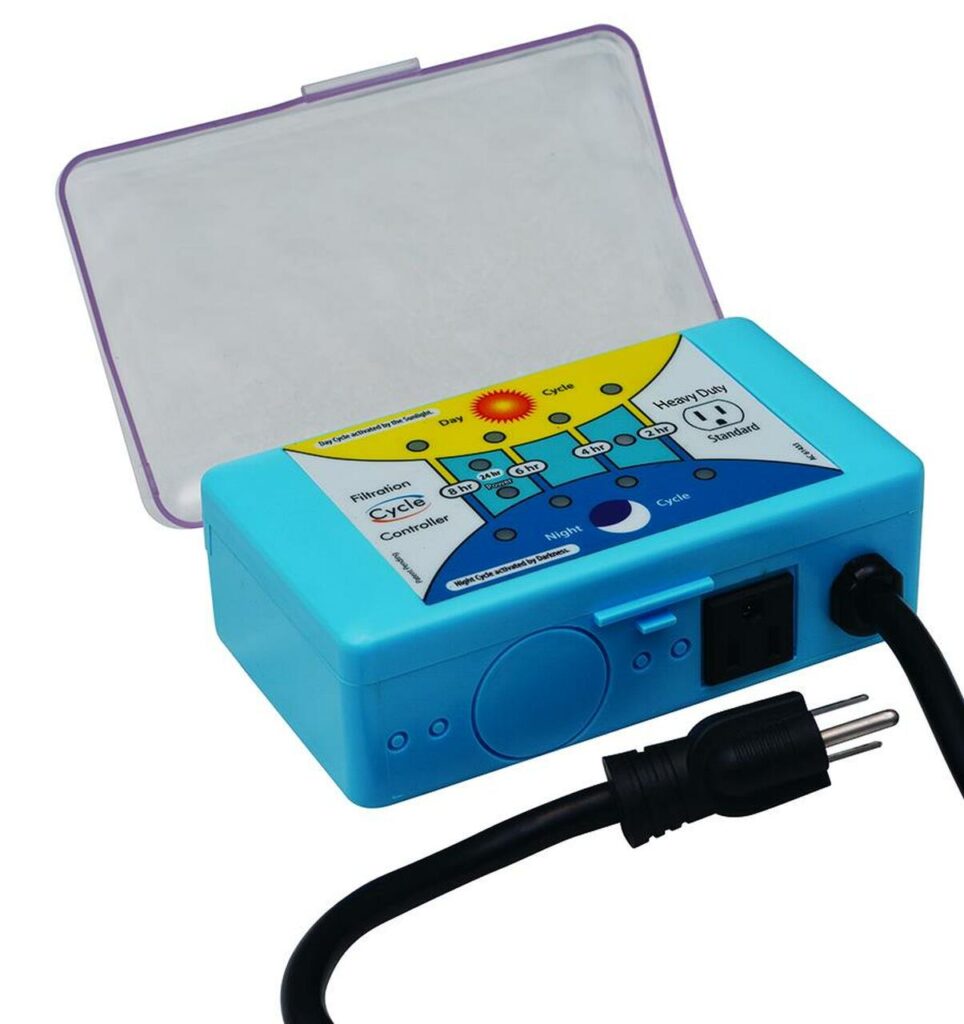 Pool timers are usually attached to the pool's pump and/or filter and are meant to help you save electricity. Like an air conditioning system, the pump would run constantly unless there is a mechanism to control it. For an A/C, that mechanism is the thermostat. For a pool, it's a timer. Most pool builders include a timer, but as they are outdoors, they have a lifespan and will need replacement eventually. Sometimes, when a home is sold, the owner may decide to switch from digital to manual or vice-versa.
The biggest difference between the two is that the manual type relies solely on time. This can be interrupted, of course, with a power outage. This has the complication of offsetting the times the pump is scheduled to work. This isn't a big deal, unless you're prone to outages, or there's a large disturbance (like a hurricane). On the other hand, a digital timer has a few options, such as solar recognition (to differentiate between night and day) or even connecting to wifi so you can control your pump from afar. This can come in handy for people that are not always at home (such as a home being rented out as an AirBnB or vacation home). You could program your pump to only clean once a day while you're away, but have it clean 4 times a day while you're there (or guests). Regardless, there's an option for everyone.
If you feel you would benefit from having motion sensor lighting, a sprinkler/pool timer or a lighting timer installed, give us a call for a free consultation! Our professional office staff will be happy to talk to you about your options.
---
We take great care to provide the most accurate information on this page. However, all content is for informational purposes ONLY and should be considered as General Knowledge or even as entertainment. It should not be relied on, as every case and/or reader is different.
ALWAYS call and check with a qualified electrician before attempting or acting upon anything you read on this site. Changes are always happening within the NEC, standards and regulations, and State, County, and City by-laws.