Problematic Pushmatic Panels
Bulldog Pushmatic panels were produced in the 1930's but weren't installed in homes until the 1950's – 60's. They've been bought several times, and it's believed that Siemens now owns the rights to manufacture Pushmatic.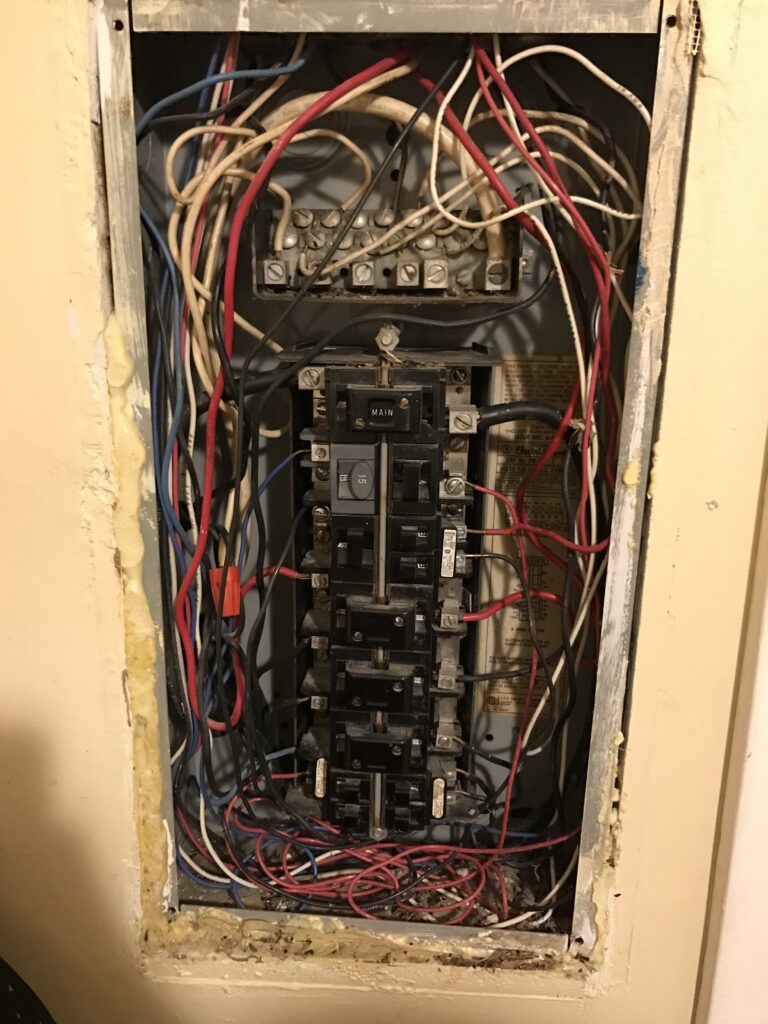 Pushmatic/Bulldog Circuit Breakers have been reported to have failures when tripping. The circuit breaker's lack of a magnetic tripping mechanism seemed to be one of the reasons for breakers to fail. The Pushmatic/Bulldog breakers have also been known to regularly become stiff and difficult to operate. They may have problems resetting due to the fact that they are grease fed. Some homeowners and electricians have said that unless they move their breakers often, they become very difficult to work. Determining whether or not the breakers have tripped is also an issue, as it's common for the breaker to remain 'ON' even though it shows as 'OFF'. Obviously, this can cause many hazards. Also, problems with the contacts inside the breakers – causing arcing and becoming welded due to the issues listed above (see picture below) – have caused manufacturing of the Pushmatic/Bulldog Panels to cease years ago.
The problem with Pushmatic or Bulldog Pushmatic is that there haven't really been any real studies done on them. Studies are abandoned, interrupted, or there isn't enough interest. Pushmatic breakers are still sold. Too many people have come to their defense, citing they've "never had a problem". But the many that have had a problem say otherwise. And so there isn't quite the push to replace Pushmatic Panels as there is for, say, Challenger or StabLok.
What can I do?
This is really a choice that you, the home or business owner, needs to contend with. We prefer to be safe rather than sorry, but in the end, this particular panel is a matter of choice. It isn't as much of a problem to insure homes or businesses with Pushmatic panels. However, some of the much older Pushmatic panels may need to be changed out simply because there may not have been an upgrade to increase capacity.
Older Pushmatic panels are NOT compatible with the Pushmatic breakers sold today. There have been many reports of damage due to people attempting to force these new breakers to fit. Although the Pushmatic problem stems from the breakers, you can't use a different brand panel with Pushmatic breakers. So you may be better off replacing the Pushmatic panel with another brand. A qualified electrician can help you if that is the route you'd like to take.
If your home, business or soon-to-be-home or business has a Pushmatic/Bulldog Panel and you have questions regarding how to address the issue, please don't hesitate to give us a call today and one of our professionals can discuss your concerns with you. Or we could schedule one of our licensed electricians to take a look at the panel in question.
For more information on Pushmatic/Bulldog Panel problems, click here.
Disclaimer:
We take great care to provide the most accurate information on this page. However, all content is for informational purposes ONLY and should be considered as General Knowledge or even as entertainment. It should not be relied on, as every case and/or reader is different.
ALWAYS call and speak to a qualified electrician before attempting or acting upon anything you read on this site. Changes are always happening within the NEC, standards and regulations, and State, County, and City by-laws.