History of the Challenger Panel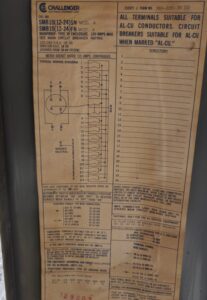 In 1973, GTE-Sylvania (same owners of Zinsco) introduced their own panel and breaker design. They named their product "Challenger". Between the 1980's to the 1990's Challenger panels were installed in hundreds of thousands of homes.  The Challenger panel was very similar in design to Zinsco's, which caused some strong opinions from professionals. The company at some point could have re-labeled the Zinsco product to pass it off as Challenger.
Problems with Challenger Panels
Challenger panels posed safety hazards very similar to that of Zinsco. Over Challenger's short time in production the company was sold four times with the final ownership by Eaton Corporation before the Challenger's discontinuation. Challenger panels are easily identified by the label on the latch on the outside of the panel door, or if it is still there, the chart on the inside of the door (see picture).
Challenged?
If your home – or soon to be home – has a Challenger panel, and you have questions regarding how to address the issue, please do not hesitate to give us a call today. One of our representatives can discuss your concerns with you and/or schedule an appointment so that one of our professional electricians can give you an electrical evaluation. Changing out this panel is a top priority when it comes to your home's safety.
For more information of Challenger panels, click on the link below or call us today and speak with one of our professional electricians for help with your Challenger panel concerns.
Click here to find out more about Challenger panels
We look forward to providing you with excellence service!